Archive for the 'Visual Experiments' Category
Sunday, September 30th, 2012
This is my latest video using the Phantom Miro 320s. I shot this at around 1000 frames per second in a small outdoor studio. We still haven't gotten all our lights yet, so to avoid flickering caused by traditional lights, I made a box of moltron and bounced/reflected sunlight into it to light the scene.
MIRO PROMO - WATER IN GLASS from Filmværket on Vimeo.
Monday, August 27th, 2012
Friday, January 9th, 2009
Los Marachas is one of the best live bands I know. Just simply because it's either you were there or you weren't sort of experience. It's never the same, but you won't ever get disappointed since the band is the perfect mix of jokes, mayhem, chaos and awesome improvised instrumental post rock!!!!
This is their press photo: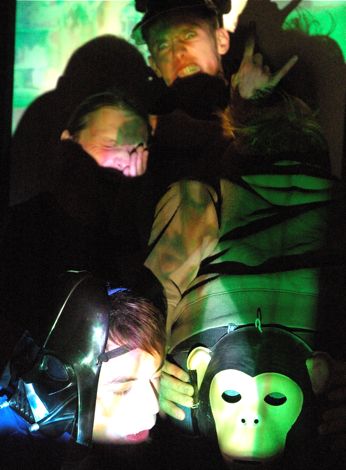 … and this is a little mashup I did of an old live recording of them (Århus, fabrikken), and it was mashed up with some backstage shenanigans that I caught on my nokia n95 (hence this shitty footage) and finally blended with some scenes, including lot's of the opening credits of: John Carpenters Halloween. Enjoy:

Los Marachas vs. Halloween from Andreas Sørensen on Vimeo.
Wednesday, December 17th, 2008

WiiToMidi Modes Demonstration from Memo Akten on Vimeo.
Sunday, August 10th, 2008
Just messing about with the camera rig that I will be using to shoot Pearl's music video for her track: Stay
The rig is curtsey of Plotpoint film & Babel film. It consists of a Panasonic HV-200 with a pro35mm adaptor with nikon lenses. I will be using a 24mm, 35 and 50 mm lenses to shoot the video. Those lenses were the ones with the lowest F-Stop, allowing me to make extreme low dof at fairly low light situation.
The music is one of my own tunes.
Monday, May 12th, 2008
Just a little experiment – a red lighter taped to my nikon flash.










Tuesday, April 29th, 2008
My first time being paid as a musician…
I present to you the visual art of Mario Brauer:

Saturday, November 17th, 2007
Saturday, November 17th, 2007
Here is the first one: 
Friday, November 16th, 2007
I'm Back! That's right Bertil, I'm back! I was in Copenhagen last weekend to VeeJay for the band Mimas. Here are some shots that should give you an idea of what it looked like. I also have the videos on the way. Hopefully I will find the space on my server to post the whole thing online, if not be sure to check theMimas YouTube page.
On another Mimas note, I just got myself a new toy to VeeJay with. It's a MPD24, don't know it? Neither do I! I just went into the store and got myself a midi box with a shit load of buttons, sliders and dials. It's great, now I got proper playback controls at my finger tips and a whole keyboard for the longer mix sequences. I know it, I've gone completely mad. I know have about 6 octaves of trigger buttons, a 4×4 buttons pad with 4 pad banks, 8 dials and 6 sliders, 7 if you include the modulator on the keyboard. Also, let's not forget the cool little blue display on the very same drum sampler I bought today. When I bought it I had no idea that it was a drum sampler, all I could think about was the buttons. Here are some shots of my paper and tape solution to the MPD24: 
Thats it folks, but more is coming up… an idea for a Mimas video perhaps….