Archive for the 'Video Log' Category
Thursday, July 1st, 2010
Friday, January 9th, 2009
Los Marachas is one of the best live bands I know. Just simply because it's either you were there or you weren't sort of experience. It's never the same, but you won't ever get disappointed since the band is the perfect mix of jokes, mayhem, chaos and awesome improvised instrumental post rock!!!!
This is their press photo: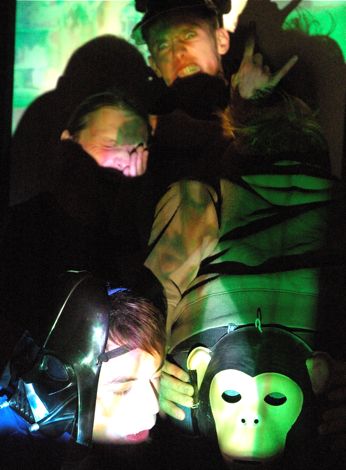 … and this is a little mashup I did of an old live recording of them (Århus, fabrikken), and it was mashed up with some backstage shenanigans that I caught on my nokia n95 (hence this shitty footage) and finally blended with some scenes, including lot's of the opening credits of: John Carpenters Halloween. Enjoy:

Los Marachas vs. Halloween from Andreas Sørensen on Vimeo.
Sunday, August 10th, 2008
Just messing about with the camera rig that I will be using to shoot Pearl's music video for her track: Stay
The rig is curtsey of Plotpoint film & Babel film. It consists of a Panasonic HV-200 with a pro35mm adaptor with nikon lenses. I will be using a 24mm, 35 and 50 mm lenses to shoot the video. Those lenses were the ones with the lowest F-Stop, allowing me to make extreme low dof at fairly low light situation.
The music is one of my own tunes.
Wednesday, March 19th, 2008
While making the puppets for the Mimas – Cats On Fire video we messed around quite a bit. Here's a little lip-sync.

Tuesday, February 5th, 2008
The best rainy days are Århus rainy days.

Monday, December 3rd, 2007
This is my first music video. Hired to do so, and loving the music. It's of cause stanley k with the track Ambitone.    br> br> br> br>

Thursday, April 19th, 2007
Hi all, I was at the FiSH film festival in Rostock last weekend with Kasper. We were there because we had gotten "Maria", the film we made together, onto the festival. Unfortunatly we couldn't win anything since were just that years selected guests of the festival, but it was still lots of fun getting our film screened along with so many others. The germans seemed to like it, even though it might have been to hard for most of them. They can't handle all the sex, violence and masturbation…lol
I made a little video of trip, even though its more of an arty music video than proper documentation of the trip and the festival. Enjoy:
YouTube:

Quicktime:
Monday, January 8th, 2007
A little film I did one evening when Chihiro was cutting Anna's hair.
Tuesday, July 25th, 2006
My first Macbook production. Recorded and cut on the macbook. This was recorded at the Los Marachas rehearsal room and we were trying out a new gimmick… I was recording the sound on my G5 and after the guys were done playing I started burning audio CDs as quickly as I could. I was able to burn 5 CDs in 10 min. The idea is that we would do this live since Los Marachas is an improv band and therefore does not have any albums or songs. After the shows done I then start burning the CDs and the audience can buy the concert they just heard… fun huh?
Anyway, check out the video from the rehearsal.
Saturday, June 3rd, 2006
Finally som real news accompanied by a video!!!
Recently I have been working on my application for The National Film and Television School in London. Its a lot of work. I have to fill out the general forms, answer some questions about myself and why Im applying, aswell as submitting a film, a treatment, and an evaluation of the film I sent. So there is plenty to tend to. Right now Im working on editing the film I will be sending, and its not going so well as I had hoped. The worst part is that I have to send it in a week or so! The reason for the late editing of the film is that its first recently that we shot it! so there was never much time to begin with. I will post some more info on how its going later, for now just enjoy my little crappy film which is all about getting no where in the editing room.