Archive for the 'Los Marachas' Category
Friday, January 9th, 2009
Los Marachas is one of the best live bands I know. Just simply because it's either you were there or you weren't sort of experience. It's never the same, but you won't ever get disappointed since the band is the perfect mix of jokes, mayhem, chaos and awesome improvised instrumental post rock!!!!
This is their press photo: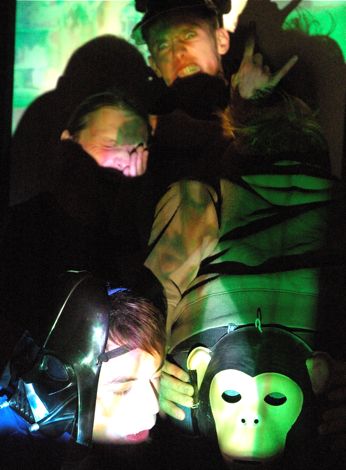 … and this is a little mashup I did of an old live recording of them (Århus, fabrikken), and it was mashed up with some backstage shenanigans that I caught on my nokia n95 (hence this shitty footage) and finally blended with some scenes, including lot's of the opening credits of: John Carpenters Halloween. Enjoy:

Los Marachas vs. Halloween from Andreas Sørensen on Vimeo.
Tuesday, April 29th, 2008
Some artwork for Snævar and Casper G's new drone band.
All images are completely and absolutely stolen from google images! you should consider yourself warned !


Original Images:
http://www.fmft.net/archives/Dead%20Horse/Dead%20Horse%204.JPG
http://radio.weblogs.com/0001014/images/2003/03/20/headUpAss.jpg
http://kenrose.org/blog/wp-content/uploads/2006/01/pierre-ken-bj.jpg
Saturday, July 29th, 2006
Hi all,Last night we(Los Marachas) played at the chocolate factory (Chokolade frabrikken) in Århus, and it was amazing. There was a really good response from the audience, and I coulden't keep up with the CDs. I recorded the concert and started to burn audio CDs with the concert stright after the guys finished playing, and not only that, I also took some shots while they were playing and did a CD cover for the CD, and with my trusty cannon IP4200 I printed those covers and went out to sell the CDs. So a great concert and a great response. I wont tell you about the playing itself, you simply have to download the 55 MB (and 48 minute) recording that I have a link to HERE (This is NOT in the regular podcast I have!!! I might make some samples later though?!?).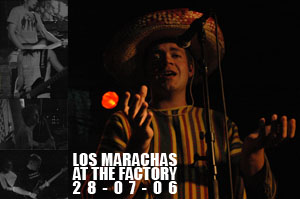 Tuesday, July 25th, 2006
My first Macbook production. Recorded and cut on the macbook. This was recorded at the Los Marachas rehearsal room and we were trying out a new gimmick… I was recording the sound on my G5 and after the guys were done playing I started burning audio CDs as quickly as I could. I was able to burn 5 CDs in 10 min. The idea is that we would do this live since Los Marachas is an improv band and therefore does not have any albums or songs. After the shows done I then start burning the CDs and the audience can buy the concert they just heard… fun huh?
Anyway, check out the video from the rehearsal.