Archive for the 'My Singing Girl' Category
Saturday, September 15th, 2007

 Well, It's finally done. I spent about five days out in beaconsfield at the NFTS campus to finish my film. Three days for grading with Laura and two for sound with the tutors Guy and Chris. The first day was a bit messy as we had some problems with getting the footage onto the system, then we could finally get to the grade. Working with smoke is different, first of all you'll find that it's a pro software. It has all the tools it needs and nothing more. The Smoke system we used was of a Linux flavor and looked pretty fast, especially considering that it was working on full 1080p HD footage. We did have some compositing problems, but I really don't get into that. By monday evening we finally had the final picture on tape. HDcam as well as DigiBeta. Also during the monday I started Pre-mix with Guy Hawke, basically we just cleaned my OMF export up, added proper fades, found atmos, foley and editing. This was so that when I on the tuesday would be mixing with Chris Pow, we'd only have to focus on the mixing itself. Mixing with Chris was great. All that dialog that I had been listening to for ages, flat and muffled, no offense to the sound guy Cuzio for he did a great job, but now that Chris played with it, it sounded deep and rounded. Great! We also got some useful feedback from the other tutors on campus. They pointed a very valid point out, that I had too much music, not as in using up too much time of the film, but that it was of too diverse genres, it was very much back to back at points, and that it often told too much about what was going on in the scene. We did our final mix and that was that. It was great finishing, I'm very happy with my first truly improvised film. From start to finish it was always pretty much my gut feeling which led the way and I think this technique works. I do feel that it would be nice with a script for a change now, so I'm enjoying working on several scripted projects at the moment. One of which is with an artist called Lennie Lee (lennielee.com), I am also competing in a little competition to shoot a 5 minute film on 16mm for the first years at the NFTS.
Next up is to go to Leif and Signe's Wedding on the 21st sep and then the Bafta Screening of My Singing Girl on the 24th sep, then one more week of school and Im finished with the NFTS this time around. That is of cause unless I get the 5 minute film! Then I will be making this film in October. It is also in October that I will be starting to edit Kasper Skovsbøl's film.
I better stop here before I get overwhelmed with all the stuff I have to do..
Singing off, Andreas.
Monday, June 11th, 2007
YAY!!! We finished shooting My Singing Girl!!! It was a WAR but we WON! lot's of problems on this shoot, lot's of weird accidents and locations to secure minutes before shooting. It didn't rain, nobody died and we didn't drop a single scene and that's the main thing! I'm now looking into the post production for the film. I'm looking for an editor and sound mixer. I already have people in mind, but I'm also on a deadline so I'm just going to have to go out there and find some good post people! I want to score and soundtrack the film, so we have a nice mix. I have already found my composer, Leif N from January Jaunt, but I am still looking for the tracks for the film.Here are the first stills:




Thursday, May 17th, 2007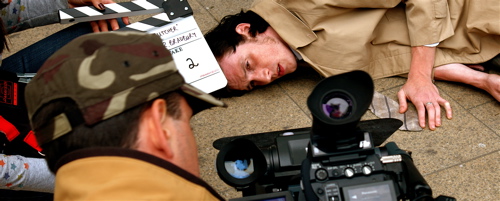 Hi all,
Had a great day today! I finished and handed in my application for the NFTS directors Masters course! and I started casting for my next film "My Singing Girl". I loved getting back into directing. It's such a kick! I know that this is what I want to do for the rest of my life. We went through a simple scene and just used improv for most of the dialog and action. I also found that I got loads of good ideas for the scene just from watching the actors make up stuff!
Also, We've almost finished Malika's application film. We worked thoughout last night finishing the special effects and doing the titles. I still haven't heard from her if she's actually finished it for tomorrow (the application deadline) but I'm sure she'll make it. The shot above is from malika's film and the youtube video underneeth is one of our special effects test we did before shooting the film.
Friday, May 11th, 2007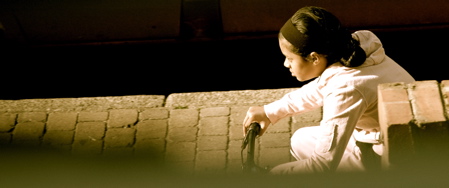 I have been busy lately working on my next film project for school: My Singing Girl. I just finished the first draft of the script last night and just had my script review with Roger Crittenden, Jim O'Brien and Rob Richie. They all liked it, but I still have lot's of editing to do and I need to redo my initial setup in the beginning. I have already set up my casting sessions for next week with the help of James Heath, my casting director, and I have got location scouting rolling with Malika, my producer and 1st AD. All in all I think I got everything under control for this film… for now… lol But of cause this is not the only stuff I have to do. I also have to edit Malika's film over the weekend, finish the special effects and finish my application for the NFTS Directors MA course. I have to hand in the application before the 17th May, so the following week should be interesting!
Im shooting from the 28th May for 5 days. Can't wait!