Archive for the 'VeeJay' Category
Monday, June 8th, 2009
Just went crazy and uploaded 5 vids to the tube today. Here's one of the more nerdy ones:
Monday, June 1st, 2009
Just ordered my very own Monome. For you who don't know what a monome is, it's acutally very very simple:
A Monome is a box with a whole bunch of buttons on it… but wait theres more! The buttons LIGHT UP!
That's it. Basicly the Monome is a tool for musicians, VeeJays and anyone who needs something to communicate with their computer for live performance. Usually people like us have to go and get some other kind of input device (midi, osc etc.) ie. I currently use a drum synth to control my Visuals. The Monome allows you to get all the buttons you need and since they light up, you can use them for toggle or other kinds of visual feedback.
Learn more about the Monome here:

Anywho, just ordered mine, so I really can't wait till I get it.
Friday, January 9th, 2009
Los Marachas is one of the best live bands I know. Just simply because it's either you were there or you weren't sort of experience. It's never the same, but you won't ever get disappointed since the band is the perfect mix of jokes, mayhem, chaos and awesome improvised instrumental post rock!!!!
This is their press photo: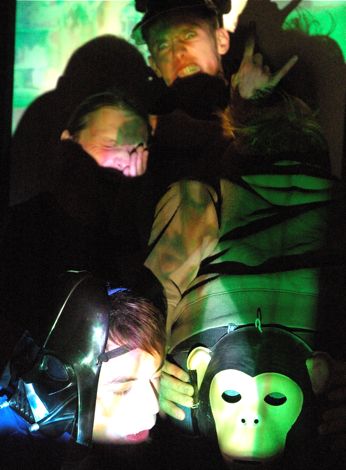 … and this is a little mashup I did of an old live recording of them (Århus, fabrikken), and it was mashed up with some backstage shenanigans that I caught on my nokia n95 (hence this shitty footage) and finally blended with some scenes, including lot's of the opening credits of: John Carpenters Halloween. Enjoy:

Los Marachas vs. Halloween from Andreas Sørensen on Vimeo.
Thursday, January 1st, 2009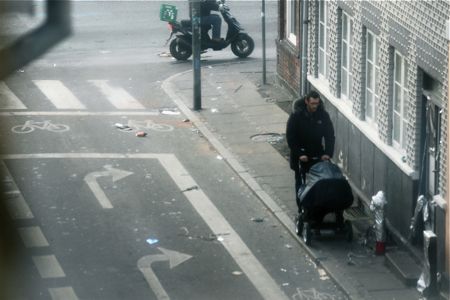 Yay, a new year. Well there can't be any better new years resolution like picking up on your blogging??? I'll dive right into it. Last year was tough, but with the shooting of The Golden Hummingbird(Den Gyldne Kolibri) and getting a kick ass job everything turned out well enough in 2008.
The last few weird post with vimeo videos has been because I've been doing a lot of experimentation with I/O and veejaying. I've hooked my wiimotes up to it, both the usual way and the johnny chung lee way, and I have used OSC apps with on my iPod Touch also, to manipulate stuff on the screen. I have even been making simple gestures working as a part of my veejaying. And as you can hear, I'm quite taken with it.
The reason for vimeo is that it's the best place on the web that I've dealt with HD. It isn't true FULL HD, but just the small version, but boy o boy does the difference show! I discovered, while researching various veejays and video artists on the web, that a lot of the really cool guys hang out at vimeo. The video on YouTube just doesn't even get close to making a decent rendition of what most of these guys do. There is too much details, particles, and very high frame rates. Vimeo fixes this, you have lot's more options on how to present your video and they do an awesome job of compressing it. www.vimeo.com
and I'll be right back…
Wednesday, December 17th, 2008

WiiToMidi Modes Demonstration from Memo Akten on Vimeo.
Tuesday, May 6th, 2008
I'll be VeeJay'ing at the SPOT music festival in Århus in a month or two. Here are some shots from the venue. It's an art exhibition hall which will be rearranged for the event. More to come.








Monday, March 17th, 2008
This has been the best gig so far for me. The screen was perfect and the guys played awesome! Here's their new song: Touring the Riot Scene
Tuesday, February 12th, 2008
Just a general update here:
At the moment I'm finishing off the post work on Kasper Skovsbøl's recent film "The Fearless Lovers". I finished editing the film around new year and now it's just the post image works, such as visual effects as well as the colour grading, that are missing. Im doing the final pass on the visual effects this week. The visual effects on Fearless are going to be the best that I've ever done!
Kasper, Amalie and myself are working on the script for my next short. Amalie is producing the film and kasper is helping me with the writing. I went to see Thomas Glud, a pro-feature film writer here in Denmark, to help me out with sorting out the story. I wrote the story "The Golden Hummingbird" about 2-5 years ago, but then it was a treatment for a feature, which I don't have the time or money for at the moment. The plan is to make a short based on the feature and then use the short to sell the feature later on. Thomas had lot's of great advice on how I could keep the morale and "the point" of the story, while still making it incredibly short! So with his advice, kasper and I will now commence writing the first draft of the script.
On the VeeJay'ing front I'm looking towards the biggest gig yet! We'll be playing at the Voxhall venue in Århus where they have a MASSIVE screen for my visuals! Can't wait! I'm also hoping that I might be able to afford my new laptop before then as my old one keeps on crapping out on me! There is not enough RAM on the GFX card to support a decent resolution for the video clips which will show BIG TIME on the screen at voxhall. So I'm crossing my fingers that I'll get a decent gig in my company soon so I can afford it!
On a final note, I'm working on making a company website for my little two man biz. I've already typed up, with the help of my dad (co-owner), what's to go on it, so now I'm doing the design and layout. Here are some samples of the artwork I did for the site:
My idea was to take some shots of Århus (My own personal urban paradise!) and "paradise" them up a little, so give them an idyllic nature twist. So I've been looking for forest shots on the net where the perspective was fairly close to my own shots and compositing them in. When summer comes closer I'll have another go at this, great big buildings with beautiful nature surrounding them…
Saturday, November 17th, 2007
Saturday, November 17th, 2007
Here is the first one: