Archive for July, 2006
Monday, July 31st, 2006
Today Today Today Today Today Today Today….
Got my interview today!
Saturday, July 29th, 2006
Hi all,Last night we(Los Marachas) played at the chocolate factory (Chokolade frabrikken) in Århus, and it was amazing. There was a really good response from the audience, and I coulden't keep up with the CDs. I recorded the concert and started to burn audio CDs with the concert stright after the guys finished playing, and not only that, I also took some shots while they were playing and did a CD cover for the CD, and with my trusty cannon IP4200 I printed those covers and went out to sell the CDs. So a great concert and a great response. I wont tell you about the playing itself, you simply have to download the 55 MB (and 48 minute) recording that I have a link to HERE (This is NOT in the regular podcast I have!!! I might make some samples later though?!?).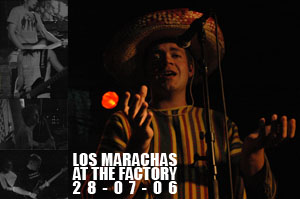 Tuesday, July 25th, 2006
My first Macbook production. Recorded and cut on the macbook. This was recorded at the Los Marachas rehearsal room and we were trying out a new gimmick… I was recording the sound on my G5 and after the guys were done playing I started burning audio CDs as quickly as I could. I was able to burn 5 CDs in 10 min. The idea is that we would do this live since Los Marachas is an improv band and therefore does not have any albums or songs. After the shows done I then start burning the CDs and the audience can buy the concert they just heard… fun huh?
Anyway, check out the video from the rehearsal.
Tuesday, July 18th, 2006
Hi all,Heres some fun from roskilde festival!!! This is Lasse (Check out Mimassite.com) and Leif (Check out januaryjaunt.dk) commenting on how they feel about all the policemen (and women) that were patroling the camping area at roskilde festival this year.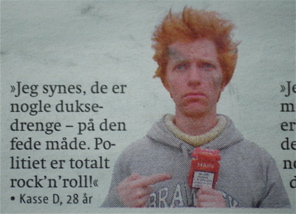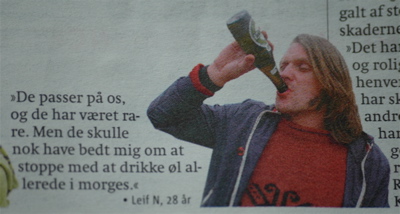 Friday, July 14th, 2006
Hi all,
I got an email today that invited me to the interview at NFTS. I applied roughly 3 weeks ago, and finally today I got the answer. I have to go to london in two weeks for the interview, and im totally psyched…
Wish me luck