Archive for November, 2006
Tuesday, November 28th, 2006
Hi all,
Long time no blog. At school we've been given a new exercise called The Spanish Steps. We have to make a 3-Hander scene (A scene with three characters) and this time we can write dialog in, so its at a whole new level now! I presented my idea to our teachers last thursday and they seemed to like it, so I've gone ahead and started writing the script, but as it is right now, it's too long! or atleast I think so. Usually we say a minute a page, and we have been given the maximum length of 5 minutes, and… well you guessed it, I am over 5 pages… I have to present my script on wedensday, so then I will find out if its a problem, thats unless I sort it out by myself before then.
The second thing I wanted to blog about was that my last film project, Maria, has finally come to a close and we are screening it for the first time on the 9th of December! This is going to happen at ØST FOR PARADIS (East of eden) art cinema in Århus at ten o'clock, and YES I will be able to make it! awesome! Maria, for me has been one of the best film making experiences that I have had in a long time, and thats no mystery since we had an awesome producer, a great crew and cast, and last but least, Its one of Kasper Skovsbøls ideas, script and his great personality as one of the main characters! Im sure I have blogged about the film before, so look it up.
Finally I wanted to start a new tradition on my site, a show of my mobile phone photos. This ofcause means lousy quality, but it also fun because there are so many "moments" among them, a special kind of sponanity about them… or maybe its just because I was drunk while taking them… who knows… they are fun nevertheless! Enjoy:

























Monday, November 20th, 2006
Hi all, just got back from a little trip in Denmark. Had to get some more stuff over, see all my buddies and most importantly; take a look at the film project Maria since it got a deadline on the 1st of December!
Some of the most important stuff I brought back with me has been my external harddrives! I have my entire portfolio on there aswell as a lot of current and unfinished projects which I thought would be nice to have around. I also have a collection of editing, photo and sound resources like sound effects archive, photoshop templates for EVERYTHING and lots of other stuff.
I was digging through one of my old drives and found a film that I had completely forgotten that I ever made! So I decided to upload it and if you click the iPod Quicktime logo below this post you can watch it, or you could also do it the right way and subscribe to my PodCast! (click Subscribe in the upper righthand corner of the site for more info!)
Thursday, November 16th, 2006
Check out my posters!
If you can identify ALL SIX of them then you win a prize $$$ !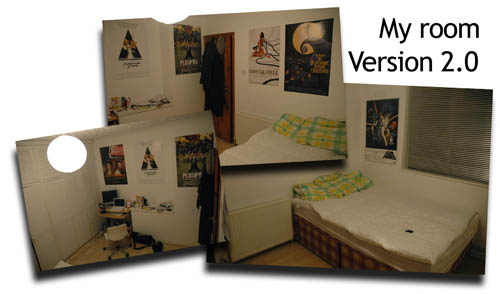 Monday, November 6th, 2006
The weekends over and we're back in class, just turned in my paper about Velasquez, hope Roger likes it. I have been working on a piece of music which I did a rough recording of this weekend, and now I thought I would share it with you. Its set to photos I have taken in the Shoreditch area where I live and go to school.
Thursday, November 2nd, 2006
Here are the pics, as promised…