Archive for September, 2010
Monday, September 20th, 2010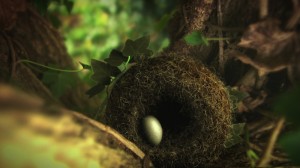 The Golden Hummingbird now has a DEADLINE!
12 november 2010 !
We submitted the film for the Århus Filmfestival, so now it better be finished by then. I'm not too worried though, I have some great and talented guys working hard on finishing the fx for the film. Right now we are doing the final compositing, assembling the backgrounds, the animation (2D and 3D), as well as all the greenscreen footage of Hanne into shots. We're almost done!
Soon we will bring the film into Sound Post where we will be creating the sound environment for the animated parts and giving the real environments that little extra something.
We are also having a little more music done for the film. Snævar is working on two small pieces of music for the film – can't wait to hear them.
We had some problems with workflow concerning the 3D animated hummingbird, which has now been solved, and the bird should be rendered and ready for compositing in a week or so.
All in all, it has never been going THIS fast with the production in the 2.5 years its been going on!
Monday, September 20th, 2010
Just found these and thought I would share. They are very old sketches and wallpapers, as well as some of my first attempts with 3D MAX.
This is an old sketch, I was really into Blimps and Airships once, always thought of that epic scene when a big city would be attacked by an army of airships.

Another Airship, now in 3D. One of my first attampts at Global Illumination technique in MAX.

Was working with a friend, Simon Falkentorp, at one point a few years. He had written a great story for a short, but epic, animated short film. I think we worked for quite a while on the elements – Storyboard, character development etc. before we each went each our own way with work and other projects. Could be fun to revisit though 🙂

Another one. The little boy has magical powers, whenever he gets lonely, then nature interacts with him and keeps him company. Here he is sitting by the river and the rocks come alive and start to play with him.

Now, THIS is really old. It is one of the first things I did in Photoshop, that I liked 🙂
My friends and I were really into doing wallpapers, and this is one of my first attempts.